A strong of priority for corrosion engineering among employers, regulators, and policymakers is driving the market for anti-corrosion coatings. These coatings ensure superior protection of metal and alloy components against corrosive environments. Changing climate and weather conditions have made materials more vulnerable to corrosion, creating a demand for advanced corrosive protection. Coating formulations with corrosion resistance are in robust demand worldwide as the use of steel in construction and automaking continues to expand. Power plants, oil & gas companies, and the marine sector will continue to augment the material consumption, ensuring promising growth prospects for the anti-corrosion coatings industry.

 
Globally, the annual cost of corrosion control is an estimated US$2.5 trillion, according to a study by the National Association of Corrosion Engineers (NACE). It is also estimated that using appropriate corrosion control measures could help save 15-35% of this cost. Over the years, through unprecedented incidents, accidents, forced shutdowns, and disruptions such as those caused by the recent COVID-19 pandemic, numerous industries have come to realize that the lack of corrosion control could prove to be very costly, and that proper corrosion management can help accomplish significant cost savings.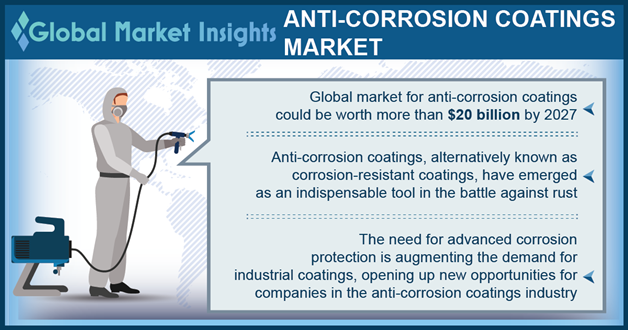 Today, transformation in corrosion management strategy is a top priority among industries in a bid to achieve lower manufacturing and operating costs associated with corrosive components and longer life of equipment. Projections based on a research analysis by Global Market Insights, Inc., show that the global market for anti-corrosion coatings could be worth more than US$20 billion by 2027, with positive opportunities in automotive, construction, oil & gas, energy, and other key industry verticals.

 
What is an anti-corrosion coating and how does it work?
Anti-corrosion coatings, alternatively known as corrosion-resistant coatings, have emerged as an indispensable tool in the battle against rust. Used on everything from automobiles and buildings to offshore projects, power plants and pipelines, these coatings help protect the structural integrity of materials in some of the harshest environments.

 
Coatings with corrosion resistant properties offer long-term protection to metal surfaces against degradation commonly caused by oxidation, moisture, or exposure to chemicals, gases, or substances. They for a protective layer on the substrate, serving as a barrier between the surface and corrosive agents and ensuring longer lifespan. Additional benefits such as resistance against high temperatures, impact, abrasion, and weathering makes these coatings highly desirable, benefitting the anti-corrosion coatings industry forecast.

 
What are industrial coatings and coating systems?
Lightweight metals such as aluminum, titanium, and magnesium have emerged as the go-to choice in automotive, aerospace, construction, and other key applications. These metals are highly susceptible to the inevitable degradation by air, water, moisture, chemical exposure, and other factors. This is where industrial coatings come into play. Today, industrial coatings are everywhere. These are high-performance functional coatings that protect a wide range of products and materials against wear and tear, decay, and corrosion, and bring an aesthetic finish to the surface. Selecting the correct formulation is essential to successful design and manufacturing of components as well-chosen industrial coatings make the finished product last longer and look better.

 
One of the most common uses of industrial coatings is for corrosion control of concrete or steel. The need for advanced corrosion protection is augmenting the demand for industrial coatings, opening up new opportunities for companies in the anti-corrosion coatings industry. A coating system refers to the process in which different types and layers of a coating formulation are applied on a product or surface, each layer serving a specific purpose. The combination of these coating layers leads to the best possible solution to protect the base material against harsh environments.

 
A coating system typically consists of a primer, an intermediate coating, and a finish coating. The primer is applied to offer protection the base material and provide subsequent coatings a suitable surface to adhere to. The role of intermediate coatings is to provide thickness. Lastly, the finish coating helps achieve a strong aesthetic appeal and additional protection to the coating system.

 
Opportunities & recent developments highlighting the consistent expansion of anti-corrosion coatings market through the COVID-19 crisis
Although industrial activities took a hit during the COVID-19 pandemic, the market only slowed down rather than come to a complete standstill. Below strategic and business developments among anti-corrosion coating providers certainly indicate the consistent growth of the industry.

 
Anti-corrosion metal coatings provider Greenkote announced a major expansion at its Brook Park, Ohio facility in the U.S. in February 2021 in response to a surge in the demand for corrosion protection on metal fasteners and hardware used in different industries.

 
In August 2021, Global Tech I Offshore Wind GmbH announced a contract notice for repairs to the anticorrosion coating at the GTI I offshore wind farm in the German North Sea. The renewable energy sector will be a major driver of coatings demand over the coming decade across Europe and North America.

 
Hempel had supplied a range of protective coatings including anticorrosion formulations for the Orbital O2 tidal energy turbine in April 2021. Another example of the compound use in the energy segment.

 
Recently in June 2021, Corinth Pipeworks, the steel pipes business of Cenergy Holdings, received orders for about 440 km of pipes along with its external 3LPE anti-corrosion coating for Italian energy infrastructure company Snam.

 
Shawcor, a leading pipeline coatings provider, received a contract in October last year to deliver corrosion-resistant coating and thermal insulation services for ExxonMobil's Payara field offshore development in Guyana.

 
Latest product innovations:
In June 2021, Greenkote unveiled the new advanced G5K anti-corrosion coating formulation with extended 5,000-hour metal protection. The formulation meets ASTM Specification B117.

 
Earlier this year in May, VinTech Nanomaterials had launched the Armor GFC Coating, an advanced nanoengineered formulation for tackling chemo-mechanical damage caused due to corrosive environments, friction, and aggressive wear.

 
InterCoat and ChemGuard product lines by Chemcoaters, which provides corrosion-resistant coating formulations for numerous industries, passed the body-in-white (BIW) testing in 2020, making them suitable in the automaking business.

 
Besides these examples, a number of other anti-corrosion coatings market players are working towards making efficient and easy-to-apply coating formulations. However, developing such coatings is not an easy task as the product must meet specific performance requirements as well as the latest environmental standards. Coating solutions providers are prioritizing R&D to meet which should positively impact the anti-corrosion coatings market outlook.

 
What does the future hold for anti-corrosion coatings market?
While the COVID-19 pandemic has affected production, supply and distribution worldwide, its impact on the anti-corrosion coatings industry seemed to be momentary. Even during the pandemic, industrial coatings with corrosion resistant characteristics have continued to experience demand, which is quite evident through some of the examples discussed above. As coatings suppliers anticipate an even greater market demand, R&D efforts and product innovation are in full flow and show no signs of stopping anytime soon. The anti-corrosion coatings market is on the cusp of rapid growth and transformation as new trends and opportunities continue to appear.